Introducing Earth Explorer from Fiona Walsh Landscapes, films from the land and the air, showing you the beauty of our earth so you can feel inspired to get outside, or just inspired to feel a sense of awe which I find seems to bring about a sense of gratitude.
Gratitude is one of those underrated virtues I think. We say thankyou to people in day-to-day life but I'm talking about the kind of gratitude that brings energy to your cells, that makes you feel grounded and truly blessed, as though all happy coincidences are actually on purpose.
Using gratitude can be the key to feeling peace, calm, happiness, and just being in your breath instead of chasing it to get the next thing done! Simple and present. Everyone has their own experience of gratitude, but for me I believe that you can't feel angry or sad when you're feeling grateful. Even if you have a bad day, go on, search for that silver lining. There is always a silver lining. There is always another way to look at it. If you're still breathing, that's pretty fantastic. Spend a couple of minutes when you get up and when you go to bed, think about those things that you're truly grateful for, or just one thing. The day could go differently because you set your mind up to be inspired with good feelings.
What has landscape photography and videography got to do with gratitude and mindfulness then? Well it turns out lots! Before going to take that photo there's a moment where you've noticed something worthy of being captured, some beauty, some moment. Photography makes you notice it, appreciate it, and study what is here and now in this present moment. Study nature in detail, moss, a flower, the shapes of the hills, patterns in the water, the mix and movement of the colours in the sky – it not only keeps you present but it can lead to gratitude.
With the Mavic 2 Pro drone, the GoProHero7, and my trusty Nikon DSLR, I can now make moving visuals! I often go out trekking and the landscape I walk among is so incredible that I just have to show you it in another format! The Brecon Beacons in Wales is one of those incredible places, the mountains, the ridges, the lakes, the sheep! One time I had the opportunity to film a group of magnificent ponies running across the land! (video below)
Here is my first film showing a walk along Llyn Y Fan Fach, from the land and the air.
On my new channel I'll also be creating a series of virtual walks. So if you need some footage whilst doing a workout, if you need a place to calm down, or just can't get to these places, watch these video walks and you can almost be walking along with me.
---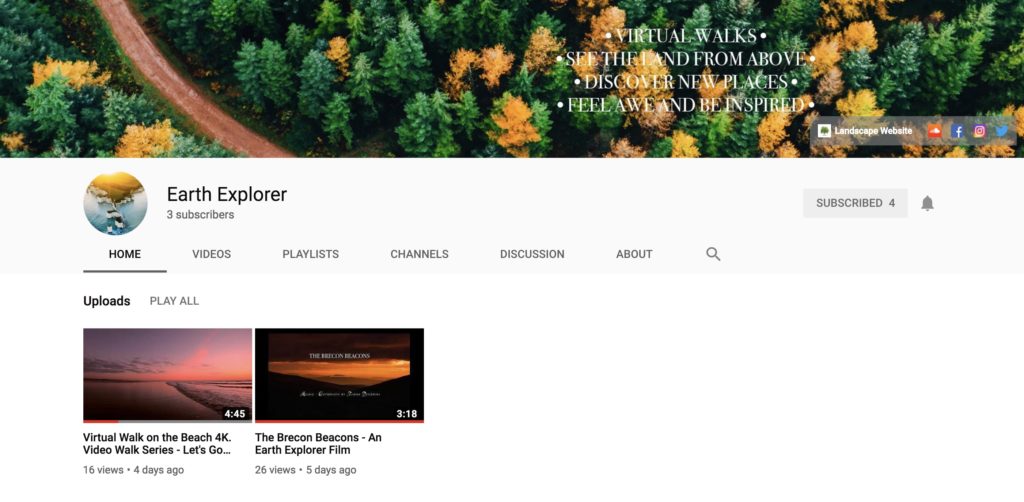 Please subscribe to the new Earth Explorer YouTube channel and get updates when beautiful films are made. All music tracks on the videos are made by myself. You can listen to my music here.