My Top 12 Things To Do. Travel Guide Oahu.
Hawaii travel photography, is there no other sexier phrase than that?! It is for me, the ultimate destination for landscape photography, and of course for utter happiness. Yes, Hawaii is everything your dreams tell you it is. This place had been on my list for a decade. It's known as a "once in a lifetime trip", but to be honest I want to go back and make it a "twice in a lifetime trip"!
Look no further, here I've provided my top 12 things to do in Oahu Hawaii, but you can just see it as things to do and write down the ones that appeal to you. But.. you have to do a doors off helicopter ride with Mauna Loa. LOVED IT! You can see some of the shots below from the experience, as well as in my number 2.
I visited in April 2019. Tips and itinerary at the bottom of the page.
All these prints are ready to go on your wall! just head to the home page and shop!
1. Helicopter Ride with Mauna Loa
I've never seen the colour blue like this before and I shall always remember that. I was in my element, as a landscape photographer in England, to be up in the sky photographing Hawaii. We had booked it in for Kauai but on the 3rd try we had to leave it (due to bad weather) and do it on Oahu instead. It was thrilling and I'm so pleased we did it. How epic is this! You have to have this on your wall, I have!
Yes, this is where they filmed Jurassic Park! Known as Hollywood's "Hawaii Backlot," I first spotted the landscape in the movie Pearl Harbor when the planes were flying low. I wanted to see it ever since. I got to stand in that exact spot too! On the East of Oahu, it's an exceptional area to see, breathtaking, especially from high up in a chopper! There are lots of activities you can do at the Kualoa Ranch in Oahu. We choose to do the raptor tor where you can drive the buggy yourself and see all the best spots there.
3. Ho'omaluhia Botanical Gardens
I wouldn't miss this if you're going to Oahu, Hawaii. Again, another spot for landscape photography in Hawaii. It's super peaceful, and free! Located on the south east, you can park along the street outside or you can drive your car in and park there. This is the location of 'that' photo you might have seen on Instagram a lot. Though you can no longer pull over to take a photo, because it holds up the road.
4. Makua Beach
Located on the north west of Oahu, Hawaii, this spot is special to me. I'd always wanted to visit a beach in Hawaii that had a mountainous backdrop, and this was it. Carrying heavy gear in the blazing sun was worth it to get a little farther along the beach, as we found a spot where no-one else was and watched the sun go down. This is what I'd imagined when I wanted to go to Hawaii.
5. Sunset Beach, North Shore
The ocean here is beautiful, and so much sea to see! The waves were choppy when we went. This is where we spent our very last evening on this island of Hawaii.
6. La'ie Point
This is known as the place where there's a hole in the rock, though you can't see it in these photos. Arriving here was a brilliant experience because of the vastness of the ocean, and check out the colour of it! We took the Mavic drone off and were astonished at the beauty. In the distance is where #9 is located (Kokololio Beach Park). I loved seeing the coral colour in the sea, the mountains in the background, and feeling the warm sun on me. This is on the north east.
7. Kaupo Bay
We just randomly stopped here as we were driving past and so glad we did. It's not so easy to get into the water on the beach to the left (we didn't try the right) due to rocks, but looking at the bird's eye view it looks like you can on the beach to the right. It's a lovely spot in the evening and check out those views from drone! The bottom left shot is from the helicopter. It's located right on the corner of the south eastern part of the island.
8. Banzai Pipeline
Lush. Wild. Glorious. Mighty.
Stretching on for 7 miles, the stunning beaches along the North Shore of Oahu draw visitors from all over. Especially for the surfing competitions. Banzai Pipeline (Ehukai Beach), Waimea Bay, and Sunset Beach along this shore are all worth a look. The ocean here, at the time we went (March), was powerful. Be careful, leave the huge waves to the surfers. When you first walk on the beach and look out into the distance, coral blue water catches your eyes with smashing white waves trembling across the sand. It's exciting to witness. I loved seeing how much shoreline there was, the colour of it, and standing so that the waves came over my feet from different directions.
9. Kokololio Beach Park
I did a little dance when we found this place. Located in the north east of Oahu, we had driven here from La'ie Point and had our lunch on the beach, and then played in the sea. We even came back again during our trip.
10. Halona Beach Cove
Halona Cove is a little pocket of sand located on the south east shore of Oahu. We were lucky enough to see a turtle when we were swimming. Be careful, like anywhere, with the currents. This beach has been in a few movies, one of them being 50 First Dates.
11. Shark's Cove, North Shore.
I don't have photos of this area, as the best part of it is underwater. It's a small area where the water is so clear, and the fish are so cute! Watch the Oahu Travel Guide here and you'll see some footage of it.
12. Waikiki
A good place to stay whilst recovering from your flight, if, like me, it was a long one. I enjoyed heading down there before the day started (well, the jet lag woke me up super early). It's a great time of the day because it's not busy and it's not hot. By 11am/midday it's just baking and busy.
It's not far from the airport, so we found it a great place to rejuvenate once we got off the plane. You can hire surf boards along the shore if you fancy it. It can be an exciting place, with the tropical water at your feet, soft warm sand to lie, and then the shops and eateries just behind you.
Prints available for purchase, just go to the home page!
Other things to do in Oahu, Hawaii:
Hanauma Bay (as seen in the large photo in #1);
Kayak to 'Chinaman's Hat'.
Resources:
When to visit Hawaii
According to Go Hawaii: "Anytime is a good time to visit Hawaii. The average temperature here is between 75˚–85˚ F (24˚-29˚ C). Summer, between April and November, is warmer and drier, while winter, between December and March, is a bit cooler. Trade winds keep things comfortable year-round."
Getting around Hawaii
Rent a car. I highly recommend this for convenience and flexibility. We used Dollar.
Use shuttles if you're staying at a resort.
"TheBus".
Uber.
Tips:
1. Food in Hawaii is expensive. We stayed in Airbnb accommodations and bought food from supermarkets to cook. Even supermarkets are expensive, compared to our homeland of Britain at least. We would buy bread, cheese, tomatoes etc. and then always make a lunch to bring with us, as well as lots of water. Some days we knew it'd be gone 9pm when we arrived home from a day out (because of the geography of the roads, it'd take some time to get home), so we'd often use Subway for our evening meal. We wanted something a bit healthier than the other takeaway outlets available. If you're budget conscious we think this is a good way to do it.
2. The jetlag had us up at 3 or 4 in the morning, so we'd make use of that and head down to the beach when we were in Waikiki. It turns out that this, for us anyway, was the best time of the day (apart from lush sunset of course), because there are no crowds and the temperature is just right. i.e., by midday it may feel too hot to be in the direct sunlight. The scene changed from tranquil, quiet, warm, to being busy, hot, and chaotic.
3. When we landed in Honolulu we knew we needed a few days to adjust to the time zone and from a long flight. We pre-booked a taxi online before leaving Britain, which took us from the airport (when we knew we'd be tired) to our Airbnb accommodation in Waikiki, where we stayed for 3 nights before moving on.
4. Don't get burnt. Be sure to wear a strong sunscreen that protects against both UVA and UVB rays. You can get ocean and reef safe sunscreen now. Wear a hat too. It's easy to forget the importance of sun protection.
5. In Waikiki we had the whole day before catching our flight to Kauai. As we had to check out at 10am, we found this storage place for our luggage: Waikiki Baggage Storage 417 Nahua Street, 96815
6. At the time we visited there was a lot of chat about car break ins. So at car parks we'd always make sure we had all our belongings from the car.
This was our itinerary for 3 weeks:
We had 3 days in Waikiki to recover from the long flight.
Day 4, flew to Kauai.
Day 10, flew to Big Island.
Day 14, flew to Oahu and visited all of the above in this blog, and stayed in Airbnb accommodations. Do them in any order you like!
Day 21, flew home.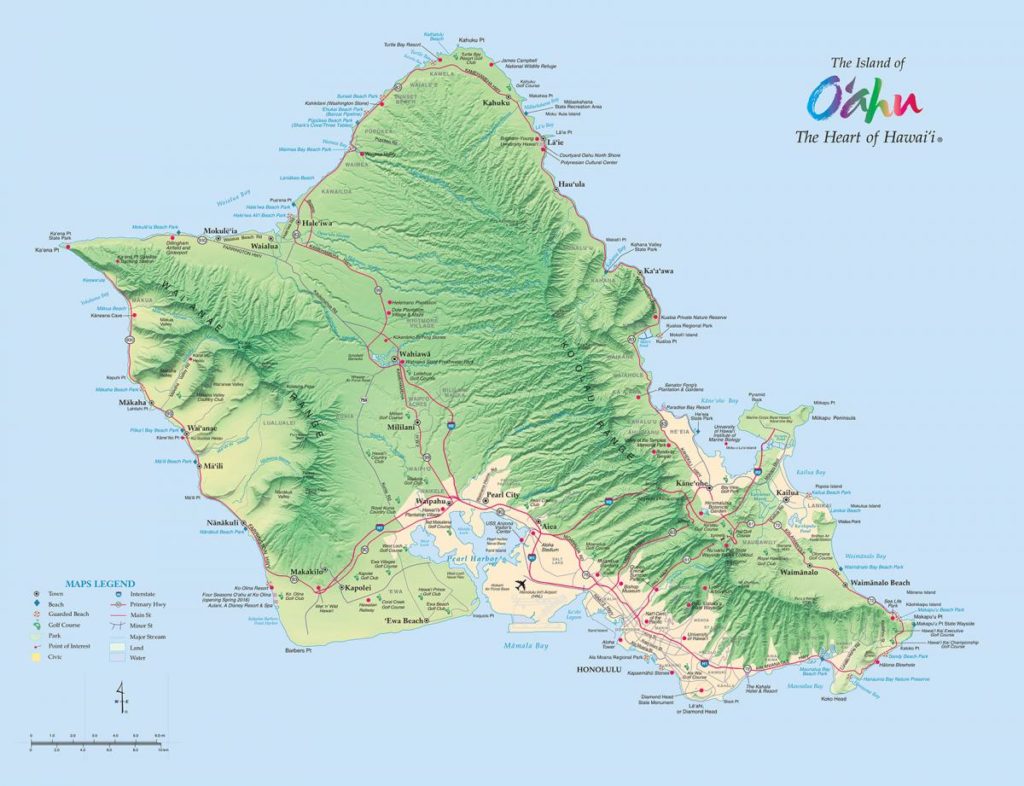 Equipment I brought:
I also brought with me:
© Fiona Walsh Photography
disclaimer: I am not responsible for any damages that might occur from any action taken as a result of visiting this site.
Was this useful? 'likes' and shares are cool.