Brecon Beacons, Snowdonia, North Wales, Anglesey, Pembrokeshire
Hey there! Are you heading to Wales to photograph its beauty? Don't blame you, I can't get enough of it and try to go at least once a year. Over the years as a landscape photographer in Wales, I've found some incredible spots that are perfect for landscape photography.
I'll tell you some of my secret spots, well not secret but my favourites, some of which aren't as popular as the usual sites and so there's a bit more peace to be had. South Wales and North Wales are just incredible for photography, which really is about the soul isn't it. Landscape photography, for me, is a source of wellness, a place to zone out and concentrate on just the scene and how I'm going to photograph it.
Get your boots on and discover even more of the land from up high on a mountain. There are loads of hikes you can do there.
I've learnt my lesson the hard way by not being prepared, on a photography shoot. I might have all the gear I need to photograph the landscape, but the weather can change real quick, so ditch the jeans and trainers and get some waterproof trousers and walking boots. I went for a pair by Rohan. I also have some hiking poles too.
If you can get to these spots early, you'll be glad, as parking can get pretty packed in the summer.
The gear I used for filming and photographing:
1. Brecon Beacons National Park
Llyn Y Fan Fach, in the Black Mountain on the west side of the Brecons (not to be confused with Black Mountains).
In the photo above, you are seeing the view from the top. You can either just walk from the car park to the lake (around 40 mins depending on your fitness level. It's an incline on the way there), or you can walk from the car park up to the top, where the photo above was taken.
Then you can either trace your steps back down, or continue on heading towards Picws Du, keeping the lake on your left.
This photography location is one I keep going back to, time and time again. Not only can you use the drone here (you can't around Pen Y Fan, as it belongs to the National Trust), it's not even that hard to get up. As you approach the lake you bear right, and climb the smooth gradual ascent to the top (you can see the path in the below photo to the right of the lake).
To see all the routes you can do visit this link here, for the OS maps website.
I once did the whole walk, including going around a second lake called Llyn y Fan Fawr, and my pedometer said I did 26k steps! My hips hurt by then I gotta say!
Here's that route in a visual map form, but you go directly to source over on OS Maps website, click here.
2. Snowdonia
This one's difficult. But satisfying. Allow enough time for this one. We were coming back in the last of the daylight, so be sure you've packed your kit well with torches etc.
Here's a link to the Mud and Routes website for the hike options, as there are a few to choose from.
I took the route from Ogwen Cottage car park (NT). If you didn't fancy a hard climb, you could just walk to the lake and back, or to and around the lake and back to the car. It's beautiful. I'll always remember the first time I saw Lake Idwal, the clouds were covering part of the mountains and I just fell in love with it. Here's the image I took. It will forever stay in my mind.
MYNYDD MAWR WALK FROM RHYD DDU
I've actually got this one on the blog already, so head on over to this link here. The whole route is described, and here's the video of it:
I've always gone for hikes which are less busy, kind of off-the-beaten-track type of thing. Then after years of visiting Snowdonia I thought I should finally climb Snowdon.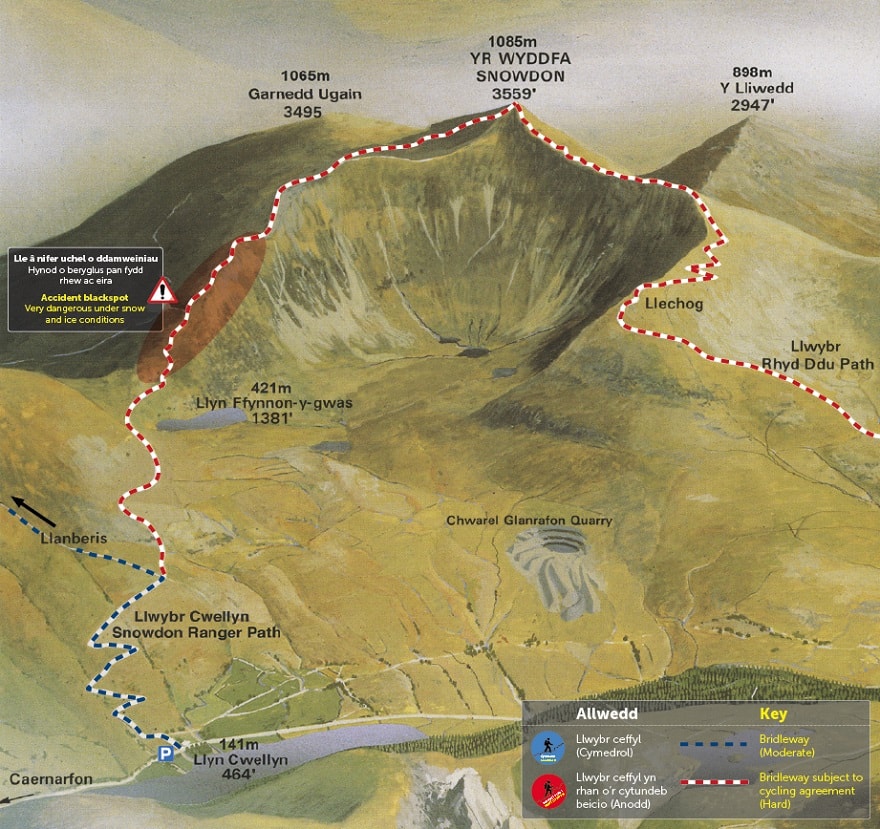 There are many routes you can choose from for Snowdon, and I choose the Rangers Path, which starts from the car park by the lake.
Image from Visit Snowdonia.
Here's a link to Visit Snowdonia, which describes all of the Snowdon routes.
However, on my drive to the car park to start this route, I looked across the lake at the foot of the track – and it was still! I'd never seen a still lake like this before, and decided to hang out there instead! It was so stunning. So I ended up doing part of the walk to Snowdon because there wasn't enough light left to get up the top and down, and then drive 5 hours home…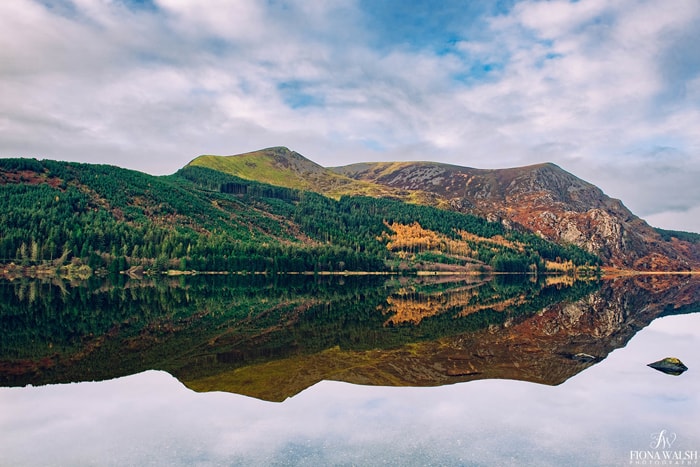 This was the lake that was so incredible, that I decided to spend my time taking photos of it rather than walking all the way up and down Snowdon. Here it is.
The mountain is Mynydd Mawr!
I got as far as the base of the main steep ascent, which is besides Llyn Ffynnon-y-gwas. The walk up, until that point, was extremely pleasant and easy-going for walking. The first part is an incline, with views over Lake Cwellyn (the one that stole my heart, photo above). Then it flattens out slightly, giving you a gorgeous view of the peak of Snowdon, before climbing up the mountain.
Note, I did try parking at the Pen-Y-Pass car park to do the Miners Track, but alas the car park was full. It will probably always be full. The guy working there said it was full when he turned up for work at 7am.
3. North Wales
Anglesey – Newborough Beach/ tidal island of Ynys Llanddwyn
Breathtaking beauty. If you like beaches, you'll love Ynys Llanddwyn. Everywhere you walk there's a new beach to go on! With rugged landscapes, turquoise water, a forest one direction and the mountains on Snowdonia across the sea. This place is to be cherished. Head for the Newborough Beach car park.
Morfa Bychan – following the beach path from Borth Y Gest car park
Here's a link to the car park. Then we walked for quite a while along the beach path for maybe 20-30 mins. It's nice from up there looking down on the beach, very inviting.
We went to the beach part that looks like half a moon, and not the super long one know as Black Rock Sands, though that's cool too.
4. Pembrokeshire
Walk along the south west coastal path from Barafundle Bay, to Green Bridge.
Park at NT Stackpole, and follow the path to Barafundle Beach, take a break here if you like, then follow the path up the cliff all the way to Green Bridge. Or, park at Stack Rocks (next to Green Bridge) and do it the other way around.
When you walk from your car to the cliff side, this is the first view you get! Wow, right?!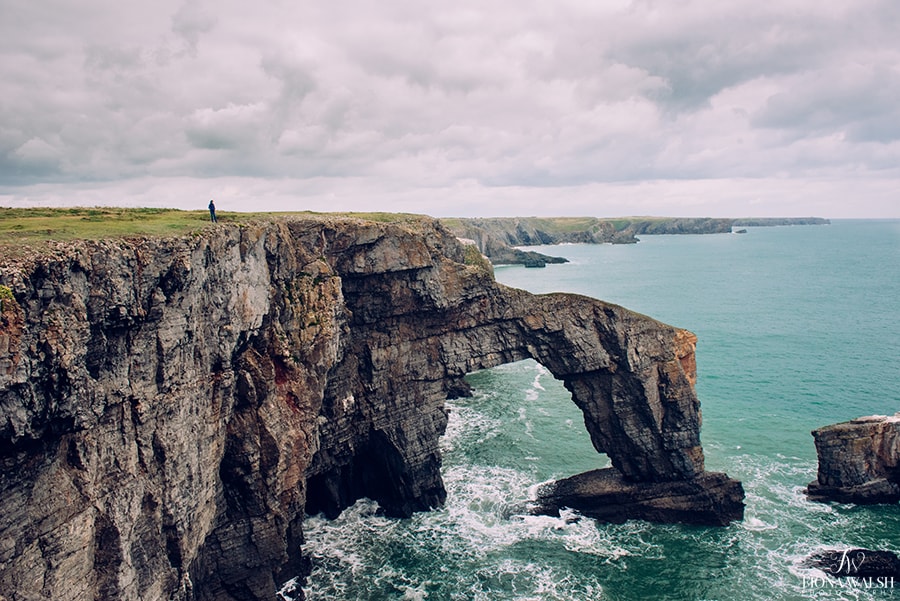 Keep on walking (and spotting seals!) and then you come to this!!: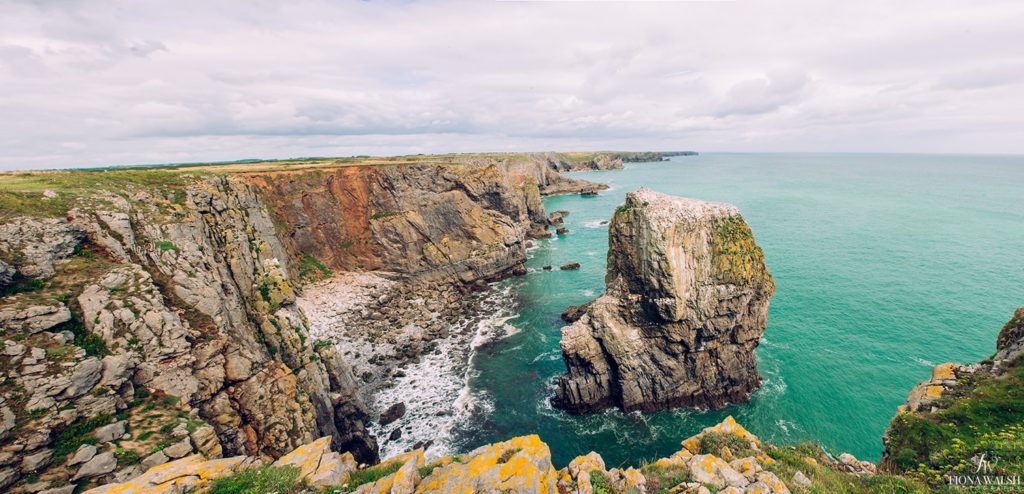 and then this!!: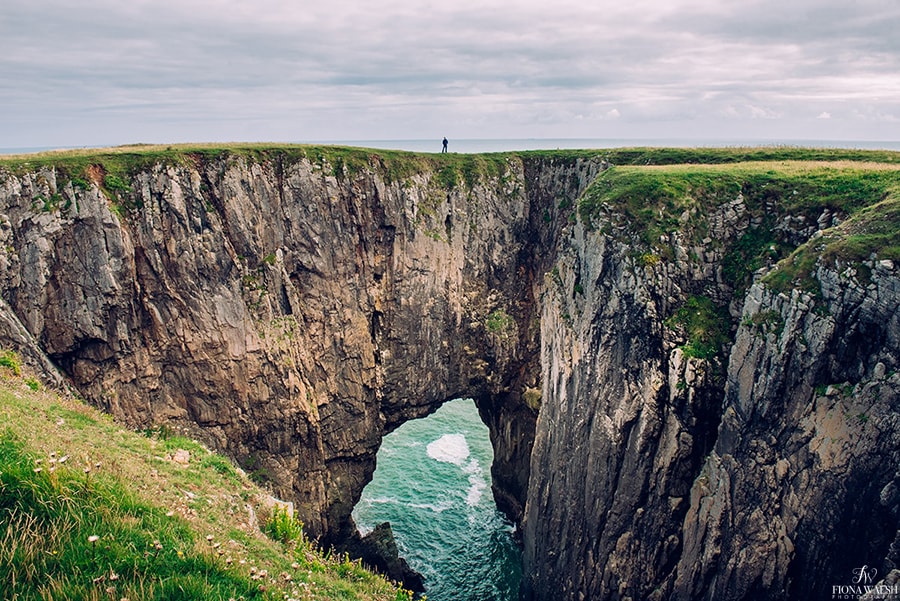 This south west wales coastal path does not disappoint. I must have said "wow" a hundred times. Spectacular.
The scenes just kept on giving, this walk is such candy to the eyes.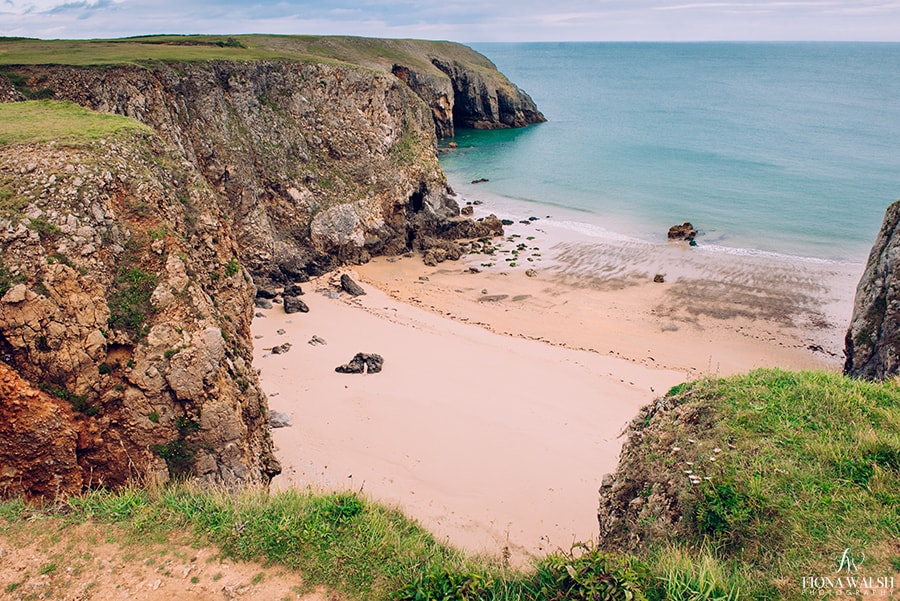 If you liked any of these shots, you can get them printed. Head to the home page.
Did this article help you, or did you enjoy the scenery? Please give me a follow on Instagram. Or Twitter below.